Sub-500g quad for racing, my second ever build.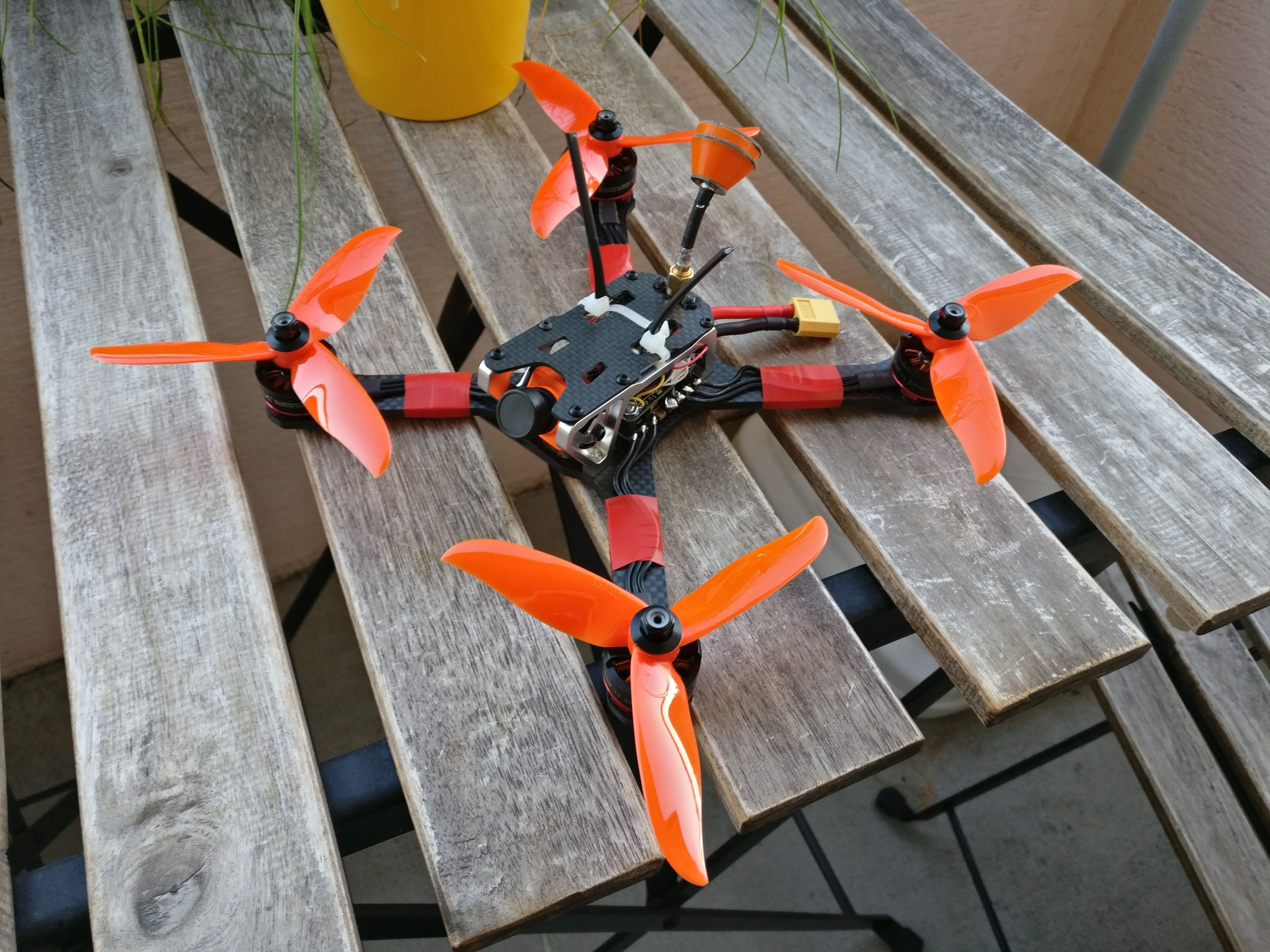 Weight: 339g without battery. 475-520g with battery.
Pretty happy with this one, the 2400kv RCX motors are beasts, although on the heavy side, and this quad is much faster than my bulky beginner ZMR250. Big up RCX on putting long leads on the motors, wiring to the 4-in-1 ESC was super easy.
I was disappointed that this 4-in-1 ESC doesn't have the very practical connector to wire the 4 signals to the FC, and no built-in BEC. But I had to wire the battery through the FC anyway to benefit from the current and voltage sensors. The pads to connect the battery are very small, both on the ESC and FC, I wish there were bigger because I usually have 12AWG wire on the XT60 and it's super fat. Also a bit disappointed that this FC didn't come with pre-crimped wires and connectors reason being they assume you will wire a lot of components through the connectors on the FC. I had to rely on my old stash of unused connectors to get the smart-audio working and I still haven't found a matching connector for the LEDs plug.
It's a tight fit with the Swift Mini and those aluminum plates. I had to omit one of the screws that hold the adapter to the camera because it was rubbing against the aluminum. Also, the camera connector is very close to the FC at the back and depending on the height of your stack and your camera angle, it might be a problem. It wasn't for me luckily, I lowered my stack as much as possible even though I used anti-vibration standoffs that are quite tall.
The VTX and RX are zip tied to the top plate and they just fit above the stack. The holes at the back of the top plate for the vTX antenna connector are very practical.
Edit: I had to 3d-print a little adapter for the vTX antenna because, when it's mounted on the carbon directly, the outer part of the connector, which is connected to the ground of the whole system, basically grounds the whole frame (carbon is conductive) and this resulted in very bad artifacts in my video feed, wrong colors, as well as a flickering OSD as soon as I armed the quad. After searching for the problem for a while, I noticed this only happened when the canopy (two aluminum plates + carbon top plate) was screwed into the base plate. If I removed the 4 screws, the problem was going away. This led me to believe the problem was electrical, and lo and behold, I found continuity between the aluminum standoffs and any ground pin on the FC, even if the canopy was lifted. So I printed a tiny plate that zip ties into the existing antenna mounting holes, and extends to the back just a tiny bit. This way, the ground of my antenna is not touching the conducting carbon and my frame is isolated from the system. Link to the adapter on Thingiverse