Background
This is my first 7" build. I prefer open-source frames in general, and the FR7 frame specifically appealed to me. A big "thank you" to Jeremy (the designer of this frame) and others on the Mid-Range Mountain Surfing facebook group. If you're thinking of building an FR7 or similar quad, definitely join that group. I was able to get my questions answered simply by reading past posts on the group. I won't go into the details of the frame here (there's a lot of good content on that from others) and will instead capture a few notes about my particular build.
Motor choice
I'm not optimizing this build for efficiency, and wanted to pick a motor that was on the bigger side for 7". There are several options, but I ended up choosing KababFPV's new "30mm" motors (he refers to them on his site as 6213/2 sized). I'm hoping the wider stator compared to the 28xx offerings will make it easier to tune well -- we'll see how it goes. I like KababFPV's work experimenting with new & different configurations and am happy to support that by buying a few motors.
Paracord?
Until I discovered the above mentioned Facebook group and saw some of the great builds posted there, I was pretty happy using lesser methods of motor cable management (electrical tape, zip ties, those plastic channel things, etc.). Well, not anymore :) I don't know how I went this long without knowing what Paracord is. As it turns out, it's perfect not only for parachutes and repairing the Hubble telescope, but also for keeping the motor wires on the quad together & protected. You remove and discard the interior cords from the Paracord, at which point you're left with the woven outer sheath. Cut to length, melt the ends with a lighter so they don't fray, pass the motor wires through it, add some shrink tube to cover the ends, and voila, you're done. I bought 1/4" Paramax cord at Bass Pro Shop -- 25ft for $9.
Multi-Color Prints?
Continuing with the theme above: Another thing I was perfectly happy with until I discovered that Facebook group was single-color TPU prints. Well, not anymore :-) Actually, I'm still happy with them, but ended up trying a multi-color GoPro mount print on this quad. I like how it turned out, but discovered I don't have the patience to do this on every part, switching out the filament all the time.
GPS
I'm using the Matek M8Q-5883, which also includes a compass. There isn't an official tail/holder print for this particular model, so I designed one. See Thingiverse link in the parts list below.
If you have this or a similar ublox-based GPS, you might be interested in my blog post on how to increase the update rate (it defaults to 1Hz from the factory, but the unit is capable of faster updates with a config change).
Crossfire
I ended up installing a Nano Diversity RX in this one. I kind of doubt I really need antenna diversity, but why not. I'm using an Immortal-T in the front, and Bardpole in the back. I also got a 50 Ohm load/terminator so I can cap off the SMA connector and fly it without the Bardpole installed.
LEDs
This is my first time trying out WS2812 addressable LEDs on a build. Since I was looking to add them more as a subtle touch, I decided to mount them underneath the quad facing backwards. The PandaRC LED strips perfectly fit on the side of the arms, under the bottom plate -- I placed one on each arm, making a V shape. They are powered by the 5V BEC on the ESC, with the signal wire going to the FC.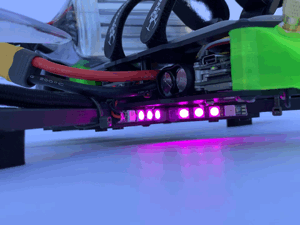 Battery Pad
I planned on cutting some Ummagrip-like material to shape as I've done on other builds. However, I couldn't cut it very cleanly. So instead I printed the pad using NinjaFlex 85A TPU filament. It's of course not sticky like Ummagrip, but it does feel somewhat rubbery and provides a good amount of friction. (I captured some additional details on printing the battery pad on my blog.)
Miscellaneous
Using 2x 560uF Panasonic FR series low-ESR capacitors (in parallel), shrink tubed and placed in the space between the ESC & the Vista unit.
LEDs & Buzzer are powered by the Hobbywing ESC's 5V BEC
Crossfire Nano Diversity RX is installed in the front between the uprights; using a 20cm long SMA to U.FL cable to connect the rear Bardpole antenna
Tuning
Tuning filters & basic PIDs was surprisingly straight-forward -- I think a big reason for that is the motor sizing. I started with the initial settings from UAVTech's large quad tuning video, and converged quickly on a good set of PIDs. It seems to have a fairly wide tuning range. I encountered some overshoot in the yaw axis in response to large inputs, but later realized this was due to I-term windup. The BF 4.2 tuning notes page has a great section on how to mitigate that.
Impression
I'm super glad I built this quad! It feels really solid in the air, and sounds great! Now that it's tuned, it's time to get an idea of what flight time I can expect with my batteries. I'm looking forward to learning some cinematic technique in the coming months (the only source of lack of smoothness is now my stick inputs!), and hopefully finding some nice spots to fly.
Update June 2022: Upgrade to v6 and carbon uprights
I upgraded to the v6 version of the frame with carbon (instead of printed) uprights, featuring an adjustable GoPro camera angle. Solid upgrade to an already very nice design. Kudos to Jeremy & CNCdrones for making an upgrade kit available.