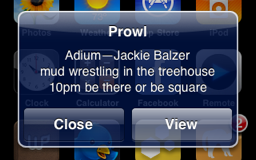 This script uses Prowls api to message your iphone when someone says your nickname in irc.
To use this script you will need to:
After you have successfully done all of this, you can just load the script; right click the screen and add your api key; Then just turn on the script.
Updated Added menu selection to activate only when you are marked as away.
The Prowl alias can be used for anything you want given the proper syntax.
Syntax: /Prowl apikey priority event-must-be-one-string text to send.
apikey is the key for the phone you are sending to. This doesn't have to by your key. If friends want to share api keys, they can send messages this way.
Priority must be a number between -2 and 2. -2 being least urgent and 2 being most urgent.
Event must be one continuos string. Use this to describe the comming text. Like Kicked.
Text to send. Can be any message up to 10000 characters. This is required.
If you are having problems with Prowl/Growl/Push, Post them here -->> http://forums.cocoaforge.com/viewforum.php?f=45 or look here for answers -->> https://prowl.weks.net/faq.php
I don't even have an iphone so please only post problems or questions directly related to the script.
You must already be able to recieve messages through the Prowl site before you can use this script.
;Prowl api iphone highlight script by Ford_Lawnmower irc.MindForge.org #USA-Chat
;This script was made at the request of Geekologist irc.WyldRyde.org
;Installation of OpenSSL is required to use Prowl api --->>  http://www.mirc.com/download/openssl-0.9.8k-setup.exe
;Install OpenSSL and then restart mIRC before using this script.
;You will also be prompted to accept or reject Prowl, as they do not have a SSL Certificate for some reason ;/
;To use this script, you will have to accept. 
;Help installing Prowl on your iphone and mac/pc is here -->>  https://prowl.weks.net/installation.php
;Register to use Prowl here --->>  https://prowl.weks.net/register.php
;To create an api key go here -->> https://prowl.weks.net/settings.php  <<---You must be registered and logged in.
;Your iphone or other device must be logged on to Prowl for this to work.
;Message limit is 1000 messages per hour!
;
;Alias Syntax /Prowl apikey priority event-must-be-one-string text to send.
alias Prowl {
  if ($2 !isnum -2-2) || (!$4) { echo -st Syntax is /Prowl apikey priority event-must-be-one-string text to send. -- Priority must be a number between -2 and 2. | return }
  sockopen -e prowl prowl.weks.net 443
  sockmark prowl $1 $2 $fixurl($+($network,-,$chan)) $fixurl($3) $fixurl($4-)
}
On *:sockopen:prowl:{
  tokenize 32 $sock($sockname).mark
  sockwrite -nt $sockname GET $+(/publicapi/add?apikey=,$1,&priority=,$2,&application=,$3,&event=,$4,&description=,$5-)
  sockwrite -n  $sockname Host: prowl.weks.net $+ $+($crlf,2)
}
On *:sockread:prowl:{
  if (!$sockerr) {
    var %prowl | sockread %prowl
    if (<success code isin %prowl) { echo -at 07Message sent Successfully!  | sockclose $sockname }
    if (<error code isin %prowl) { echo -at 04An error occurred. Your message was not sent! | sockclose $sockname }
  }
}
#prowl on
On *:text:*:*:{
  if (%ProwlAwayOnly) && (!$away) { return }
  if ($istok($strip($1-),$me,32)) && (%Prowlapikey) {
    if ($timer($+(prowl,$nick,$network))) { return }
    .timer $+ $+(prowl,$nick,$network) 1 5 noop
    Prowl %prowlapikey 1 Highlight $nick said: $1-
  }
}
#prowl end
menu status,channel {
  Prowl Highlight
  .Set api key: set %prowlapikey $$?"Enter Your Prowl API Key"
  .$iif(!%prowlapikey,$style(2),$iif($group(#prowl) == on,$iif((!%ProwlAwayOnly),$style(1)))) Prowl Highlight Always On:.enable #prowl | unset %ProwlAwayOnly
  .$iif(!%prowlapikey,$style(2),$iif(%ProwlAwayOnly == on,$style(1))) Prowl Highlight On Away Only:.enable #prowl | set %ProwlAwayOnly on
  .$iif($group(#prowl) == off,$style(1)) Prowl Hightlight Off:.disable #prowl | unset ProwlAwayOnly
}
alias -l fixurl return $regsubex($1-,/([^a-z0-9])/ig,% $+ $base($asc(\t),10,16,2))